KING KHAFRE x BRBC DEBBI (Puppies were born on the 31st of August)
These puppies have a pedigree stacked with the legends of the American Bully world, Grand Champion Casablanca, Nationals winner Grand Champion Thee buss, Nationals winner Grand Champion Axel, Champion Magoo, Eminents Big Boss and of course our boy King Khafre that is known to be the most extreme pocket american bully in Australia. You will not find a dog with more muscle mass/thickness on a pocket frame in Australia. King Khafre is also known among the bully community here in Australia for having the sweetest nature and not being phased by anything, great with other dogs and children. He is around 39Kgs and 15 inches tall. Imported all the way from Ohio in USA
We will be breeding our stud King Khafre to our imported female BRBC Debbi. Debbi aka Debra was imported from Bent River Bully Co in Illinois USA.  She is  ABKC nationals winner grand champion Axel daughter (Nationals is basically like the yearly world cup for the breed), she is also an ABKC Nationals winner Grand Champion Thee Buss grand daughter.  She is 13 inches tall and 28kgs, very short through the back, great structure and show confirmation, all though she is our smallest female she has proven to be our best producing female thus far, her pedigree really shows through when we see the puppies she has produced, short stocky, short back, great show confirmation and a big blocky wrinkly head coming from the axel and buss in her pedigree.                                                   
Both mum and dad both have extremely sweet personalities, expect the same from these puppies.
Mum of the puppies to be has the more show tidy balanced dogs in her pedigree while dad has the extreme mass monsters, we expect a blend of the two, very short compact puppies with impressive features, ie big blocky head and muscle mass.
Both mum and dad are DNA tested and cleared. We expect predominately black and blue puppies.                                                                                                   
MUSCLE TONES NEMESIS X MAGOOBLAA OF PLATINUM BULLIES
(Breeding completed, due date 8th of November)
Muscle tones Nemesis, the most extreme pocket american bully in the world, bred to our imported female all the way from Kansas USA Magooblaa (Imported Grand Champion Casablanca daughter)
I do not think we have to say much more about Nemesis, He is so impressive that he does not look real and he will produce very solid puppies when put with our most extreme pocket female (widest/thickest with the most muscle mass).
These puppies are for those who want a pocket American Bully with as much muscle mass and width as they come. Expecting some of the puppies to be close to 40kgs in weight when fully grown. Mum is 34.5kgs at 15 inches tall and dad is around 45kgs at 15 inches tall (This height is measured from ground to the withers).
1st pick male Available $25,000 intact breeding stud
2nd pick male Available $20,000 intact breeding stud or $15,000 pet home
3rd pick male Reserved
1st pick Female Reserved
2nd Pick Female $25,000 intact Breeding bitch 
3rd Pick Female $20,000 intact breeding bitch or $10,000 pet home spayed female.
Contact Steve on 0439381823 or email platinumbulliesaus@gmail.com for reservations and to be added to the waiting list for when we may have a larger than expected litter.
Grand champion Casablanca, Nationals winner Grand Champion Axel, Nationals Winner Grand Champion Thee buss, Grand Champion Beastro etc all in the one pedigree.
Debbi x Khafre Reservations
Female 1st pick – Reserved (In house)
Female 2nd pick -Reserved (Steve)
Female 3rd pick – Reserved (Cherrie S)
Female 4th pick – Available $15,000 intact breeding bitch or $9000 partially spayed to pet home.
Please contact steve on 0439381823 to reserve puppies or to be added to the waiting list. 
Muscle Tones Nemesis x Magooblaa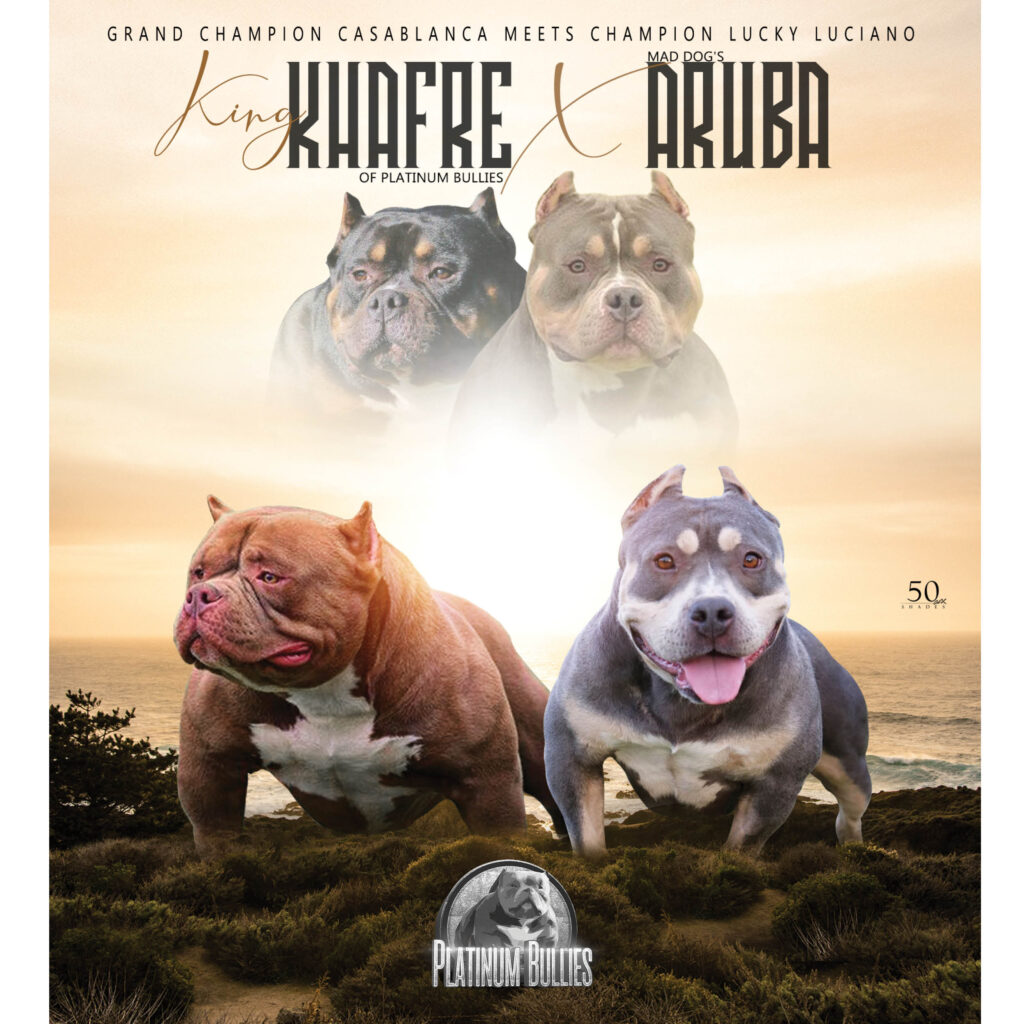 King Khafre X Aruba Expected late November.
Khafre x Aruba. The most extreme (most muscle mass, bone and thickness) pocket American Bully in Australia King Khafre, our imported Grand Champion Casablanca son who is 15 inches tall to the withers (shoulder blades) and 40 kgs heavy, will be bred to our imported Champion Lucky Luciano Daughter Aruba.
Both King Khafre and Aruba are great with dogs and kids.
Aruba is a very short 14 inches tall to the withers and 33kgs, short through the back and has an impressive pedigree.
We expect impressive puppies with a wide variety of colours possible, Fawn, blue tri colour, blue, black etc.
1st Pick Male – Reserved. (Mick.C)
2nd Pick Male – Reserved. (Sam.M)
3rd Pick Male – Reserved. (Jess.F)
1st Pick Female – Available $17,500 intact breeding female.
2nd Pick Female – Available $15,000 intact breeding female or $10,000 partially spayed female.
3rd Pick Female – Available $8000 partially spayed pet home only female.
Please contact Steve on 0439381823 or Platinumbulliesaus@gmail.com to make a reservation or to be added to the waiting list and contacted if more puppies than the 6 are born and to be given information about future litters.